Updated 14 NOVEMBER 2014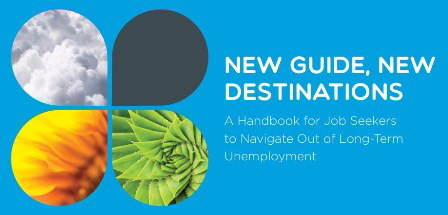 Just about all the info you need about the Atlanta Job Market. www.ajobs.com Lots of samples, how to's and now includes links to hundreds of companies and their job sites, personnel agencies, professional associations, etc.. The author, Steve Hines, also heads up the network group that meets on Wednesday night at All Saints Episcopal Church in downtown Atlanta.

A practical guide to job search and networking that is written for candidates by candidates. The goal is simple: Shorten your search by learning from our experiences.

I try to offer what I sought most during my two transitions: Advice to overcome roadblocks and how to keep a strong sense of hope.

What you will find is a "Job Search Greatest Hits Collection" of lessons, mistakes, tools and advice collected from 600+ job search networking contacts (from my own search and running a job transition group).

Career Lab This page contains a wealth of ideas and FREE resources related to succeeding right where you are, or making a change to something much better.


A free career advice website... ...with over a thousand real success tips and links - featuring new CareerTIP® advice every day and a new career theme every week - connected to a network of media partners and live events that are sponsored by companies and employers seeking the right candidates for the right career opportunities. Meet Brian Ray.

Search Thousands of Careers, Jobs and Employment Opportunities Worldwide
Making an informed decision about a potential career can be a daunting and time consuming endeavor. CareerSearchDatabase.com helps career minded professionals, job seekers and students to make better, more informed career choices by providing highly relevant, reliable and up-to-date career information and job search resources. With many thousands of regular website visitors CareerSearchDatabase.com is now one of the premier career and job search websites on the Internet.

CityTownInfo, the leading online resource for in depth information and analysis on U.S. cities, communities, careers, colleges, and more.

Riley Guide If you can only go to one ... This is it... The Riley Guide is a directory of employment and career information sources and services on the Internet. It is primarily intended to provide instruction for job seekers on how to use the Internet to their best advantage, but recruiters and other career service industry professional will find information here to help them also.
Networking your way to success: keynote speaker and author Susan RoAne, provides tips on networking your way to more success in your business and personal life! Susan RoAne's articles on mingling, business networking, or working a room are available for your use to read or for your publication.

WetFeet.com Whether you are just entering the job market, planning a big job change, or switching jobs within your field, WetFeet.com's award-winning content helps you make better decisions. WetFeet.com gives you the scoop on the companies, industries, and careers you're considering, and advice on everything from breaking into a new industry in mid-career, negotiating salaries and stock options, to getting that ideal job, to relocating to a new city.

Get Jay Litton's Free Article "How to Bypass the Hiring Manager's Checklist" and e-zine. Jay is one of the leaders of the Roswell UMC Group. Valuable advice here.